Ivacy
Privacy is your right, and so is internet freedom. With Ivacy by your side, you can overcome every restriction that curbs your digital freedom in any way. Your freedom is not the only thing we care about; Ivacy also ensures your privacy by allowing you to go incognito on the internet. This is not all! Ivacy also offers servers in 40+ countries so you can access content from any blocked or restricted website from around the world.
Ivacy offers customized apps for all the major platforms to make your internet experience more versatile. The apps are extremely easy to use and exceptionally reliable in terms of your security, while ensuring smooth connectivity. Now you can enjoy internet freedom on multiple devices at one time. VPN Advise provide quick review about ivacy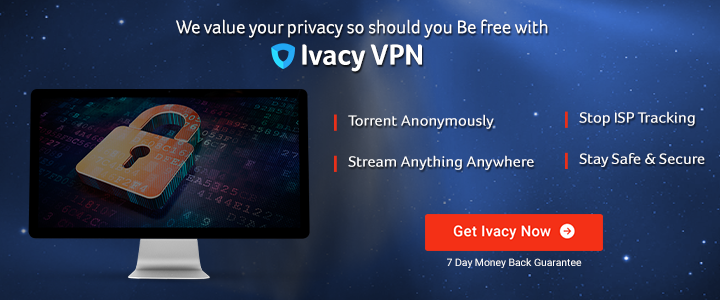 Pros
P2P Optimized servers in many countries including US, UK and Canada
Unlimited bandwidth & Server Switching
256-bit encryption for ultimate protection
Simultaneous connections on 5 different devices
PPTP, L2TP, SSTP, IKEv2, OpenVPN & the revolutionary Stealth
99% Uptime with unlimited speed
Absolutely No logs whatsoever!
200+ Servers in 50+ countries
Security even when your connection drops
Dedicated Live chat, ticketing system, social media and email support available
7-day Money Back Guarantee
Cons
No Live Chat
No free trial
Affordable Pricing Plan
A lot of things come to mind while selecting a VPN service. The users are usually reluctant to try the VPNs because of the fear of being robbed – not in a literal sense but in terms of the services. Therefore, the pricing and the subscription plans become all too important for a user to ignore.
Having reviewed several VPN services in the past, we can safely say that Ivacy is not your ideal cheap VPN service. But what we can tell you is that it offers great value against the services and the features it offers to its users. For starters, it provides three subscription plans to its users – the monthly plan, half yearly plan, and annual plan.
The half-yearly plan or the six-month plan costs you $5.99/month after a 50% discount. Since the payment is made up front you will be required to pay $35.95 every six months. The annual subscription or the Premium account is the most recommended plan by Ivacy VPN. You can get it for $1.83/month after paying $21.95 up front on the yearly basis.
Defiant Protocol & Encryption Support
We have always made a point about wide protocols support during Ivacy review. If a VPN service provides you with all kinds of possible protocols, be sure that it takes your privacy very seriously. That being said, a diverse protocol support also gives the users the liberty to tunnel their traffic through any of the protocols they like.
Ivacy does a fine job with the protocol provision and offers PPTP, SSTP, L2TP-IPSec and OpenVPN protocols to its users. From streaming and fast browsing to safe and secure access to the internet, it ensures the users enjoy the luxuries of the internet without compromising on their online security.
While many users play down the role of encryption and rate the protocols higher, we think that both are important and therefore one should not be complacent about the encryption support he gets. Ivacy provides at least 256-bit encryption to make sure all your traffic is safe with its highly functioning algorithms. We would have loved to see the provider taking the encryption a bit seriously but we would still vouch for it without an iota of doubt.


Visit Provider
Torrenting and P2P File Sharing
Many VPN services back away when it comes to providing support for torrenting and P2P services to their users. Since the P2P file sharing is not allowed in many countries, it takes some grit to go out of the way to make sure that users enjoy the files sharing services. Ivacy is one of many VPN providers that allow torrenting and P2P facility on their network.
Ivacy VPN for torrenting enables safe and secure using P2P file sharing services. It provides optimized P2P servers with blazing fast speeds to ensure your download and upload do not suffer. These servers are located in countries that don't require VPN services to store metadata of their users or have strict copyright infringement laws. Ivacy takes your online privacy to a next level by using leading edge protocols and AES 256-bit encryption ciphers.
Is Ivacy VPN Safe?
There are many reasons why anyone purchasing an item (especially online) might question whether it is safe to use or not. This is precisely the case with Ivacy as many would question: is Ivacy VPN safe?
From our Ivacy VPN review, we can safely say that the VPN service is safe to use. With its 250+ servers in over 100 different locations, robust protocols, innovative features, and being torrent friendly, it offers great performance coupled with excellent benefits to all VPN users.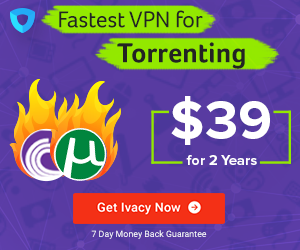 Visit Provider
Ivacy VPN Speed Test
In our Ivacy VPN review, we conducted speed tests to evaluate the provider's performance. It is known that VPN's slow down your internet connection. However, this usually varies between different providers and also depends on the server and protocol you use.
Initially, we tested our network connection without a VPN service and observed the following results:
Next, we connected to a US server using OpenVPN protocol and got the following speeds:
The results show that Ivacy caused a slight drop in download speeds while the upload speeds remained consistent. Surprisingly, the ping dropped when connecting to a VPN. That said, we were able to access blocked websites such as Hulu, Pandora, and Netflix without any restrictions and stream in high quality.
Installing and Connecting Ivacy VPN on Windows
While some of the VPN services bring with them the painful experience of installing and running them on devices, Ivacy VPN offers a simple one-click solution for download and installation. You can visit Ivacy's website and click on "Download Now!" to download the setup. Once the setup is downloaded successfully, install it and make sure to check on "Launch Ivacy".
Ivacy will automatically be launched once the installation is completed. But your job does not end here even after the installation; you will be required to fill in your details and to select the server and other necessary options before you could enjoy using it.
1) Post successful installation, you will be presented with the following screen. You will see the Dashboard where you will have to make adjustments to run it on your device. Enter your credentials in and select the protocol and purpose before clicking on Quick Connect.
2) You can let your VPN decide the protocol or you can manually select the one you like. In our case, we chose PPTP as our connecting protocol and connected to the US fastest server.
3) Just for the record, you can also select the Purpose as per your choice. You will have different choices to choose from.
4) Once you have selected your purpose and protocol, click on Quick Connect. Your VPN will hardly take a minute before it connects you with its server.
5) Notice the panel on the left of your VPN Client? You can make use of it as well while configuring Ivacy on your device. You can check out all the options to get to know what more does it offer to you. Click on "Personalized Selection" to explore all the options.
6) You can also use the Split Tunneling option, the feature that lets you select some of the applications to run separately without eating the bandwidth off your VPN service. But to be able to do that, you will have to run Ivacy with Admin Rights.
7) Last but not the least, you can also check all the settings before you decide to connect your VPN. Save the settings and enjoy using Ivacy.

Visit Provider
Ivacy VPN for Android
With device compatibility being its forte, the Ivacy VPN's app can easily be found on Google Play for free to download and run it on Android smartphones and tabs. The app will run smoothly on any Android device that is running Android 4.0 or above. The app size is comparatively small than other VPN services and is very easy to use.
Upon downloading and installing the app, tap it to launch it and enter your credentials.
Once you have entered the credentials, you will be required to select your server and protocol.
Tap on the "Red card" in front of the servers to select any of the servers of your choice.
Once you have selected the server, you will be brought back to the screen where you will be required to tap on "Connect". Meanwhile, you can click on three vertically lined dots on the right top of the app to explore further options.
Now tap on "connect" and wait for the connection to be established. But before it does that, it will ask for your special permission, tap on "I trust this application" and proceed further. Having approved the app, your VPN will take some time before it connects and grants you the access to all blocked services and websites.
With Ivacy now connected, not only your browsing is safe, but you are also hidden from the cybercriminals. Enjoy unblocking Netflix and much more.
Split Tunneling with Ivacy VPN
We have often emphasized how important it is for a VPN service to have features like Split Tunneling on offer. They provide extra value to the services of VPN providers. Ivacy, like many of its competitors, fully understands the importance of such features from the perspective of its business and from the perspective of its users.
It knows how the Split Tunneling can help the users cut down the load of their VPN services. With this feature, Ivacy's can take load off your VPN service by curtailing down the applications that put extra load on your internet speed. You can choose to route your traffic or app with Split Tunneling and save bandwidth of your internet by instructing Ivacy VPN to exclude the apps, which will still run in the background but without the protection of the VPN.
Zero Logging Policy and Money Back Guarantee
Most of the VPN providers keep a record of your online activities to further improve their services. That is not only a wrong practice but something which goes against the basic principle of online security. Some of the VPN providers in the past have been alleged to have teamed up with spy agencies in order to provide your information to them so it becomes nothing less than a necessity to run a background check on the VPN service's logging and privacy policy.
Ivacy review revealed that it does not record or store your Meta logs or keep an eye on what you are browsing and which applications are you using on your smartphones, laptops, tabs and iPads. Ivacy puts your privacy on top off its list, hence makes sure to provide you a transparent service.
Conclusion
Conducting Ivacy review was difficult, yet a fun thing to do. Difficult because Ivacy, as stated above, is comparatively new and has been revamped so it does deserve some margin of error due to changes in the panel and the sudden changes in its operational ways.
Fun because Ivacy tends to surprise everyone with what it is offering right now. If you are a veteran user, you will be surprised to see the features and services offered by Ivacy. They are as good as any other VPN giant out there. Yes, it needs improvement in some areas, but all in all it was fun conducting Ivacy review. We would recommend all our readers to give it a shot if they are looking for a VPN full of smart features. According to our review we rate Ivacy 4.5 / 5.0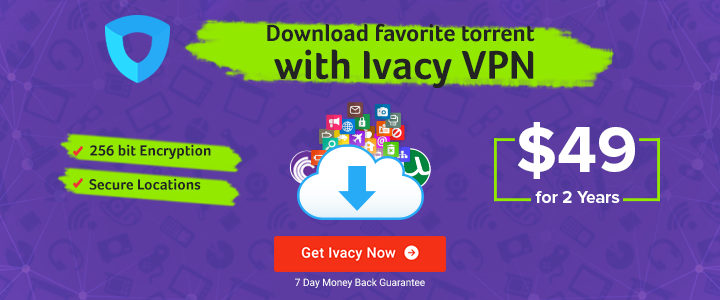 Visit Provider